Feel Free to Prosper® Audio Program — the Original!
This is the original best-selling Feel Free to Prosper program — recordings of Marilyn's interactive group mentoring calls along with the Feel Free to Prosper lesson material and the most powerful prosperity principles available today. You'll feel just like you are on the live calls!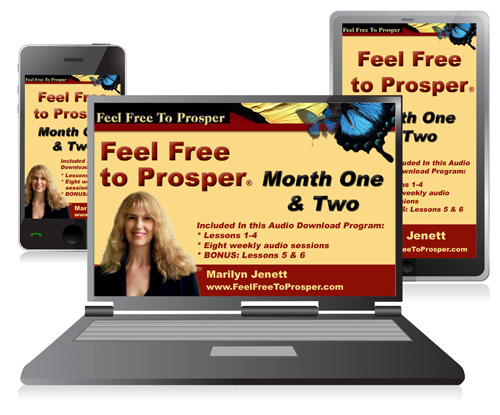 This is the downloadable audio version of the traditional Feel Free to Prosper program — the self-study program which includes Lessons One through Six in pdf format and eight weekly recorded teleclass sessions.
Students manifest exciting results in the first weeks, even days, of this program as you will see at the link. Lesson One has traditionally brought striking manifestations to Marilyn's students in a very short time, usually in two weeks or less.
Month One includes Lessons One and Two and four weekly audio sessions. Month Two will continue your prosperity journey and includes Lessons Three and Four, bonus lessons Five and Six, and four weekly audio sessions.
ALL AUDIO PROGRAMS
Feel Free to Prosper® Teleclass for Business Success
How Would It Feel to Have the Universe as Your Marketing Department?  This 3-hour, 20-minute recorded teleclass is devoted to prosperity principles just for business success. Marilyn shares with business owners, solo-preneurs, and career employees, the prosperity laws that she specifically applied to create and build a renowned business for two decades and to later reinvent herself with the creation of the Feel Free to Prosper program.  It's a storehouse of information that you won't find anywhere else. Audio download. $147
Note: Marilyn recommends that for your greatest benefit, you listen to the Teleclass for Business Success after you have completed the Feel Free to Prosper Program, which is the foundation of the Feel Free to Prosper teachings.
I Create My Body® Audio Program – For Men and Women
Create the foundation of a fit, healthy body from within — without dieting!
The audio version of this unique lesson and mentoring experience allows you to lose weight in a natural, effortless way — by gently shifting the dominant thought in your subconscious mind. The program includes a gift of the Body Prosperity eBook. Audio download. $147
How to Use Gratitude to Attract What You Don't Yet Have
Learn an aspect of gratitude that is not commonly known — using the powerful principle of gratitude to attract what you don't already have and change your circumstances dramatically, often at an astounding speed. Recording of Marilyn's compelling teleclass. Audio download. $47
Release Is Magnetic Audio Program
Many situations in life can be resolved and healed, and peace and harmony expressed, by a special spiritual practice known as "release." It is the fastest, surest way to turn situations around in human relationships — at home or in business — and also to "let go" to allow the Universe to manifest our desires in all areas of life. Recorded teleclass. Audio download. $47
The Power of Affirmative Prayer for Fast Results
This teleclass is about "affirmative," or scientific prayer. Marilyn will teach you what it is and why it works, when traditional methods of prayer often do not. She'll also explain how it's related to the prosperity principles she teaches in the Feel Free to Prosper program. This is a remarkable experience that will expose you to another dimension — a dimension of life where real success, real solutions and real healings occur. Audio download. $47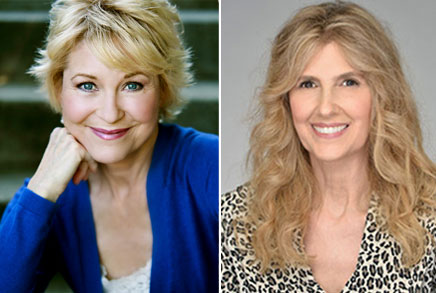 Money Makes the World Go Around!!
Webinar Replay with Marilyn and Dee
Dee Wallace, star of E.T. the Extra-Terrestrial, film and television actress and healer, shares Marilyn with her community in this special webinar and says:
"This was awesome! The woman who changed my financial life spent two amazing hours with us as we unraveled financial blocks and opened up money flow! Marilyn Jenett is a renowned prosperity mentor who helped direct me to financial expansion. She combines a spiritual and pragmatic approach to manifestation and abundance with techniques that will help you shift dramatically and have "the Universe on speed dial." Audio download $40