Two Weeks to Unexpected Income with
the Simplest Prosperity Laws Available
…in just 15 minutes a day!
Audio Program for Real Estate Professionals
What you are about to discover is not a "real estate" program created for real estate professionals — it's a prosperity program that greatly impacts real estate professionals…
Is there really a way to manifest unexpected income, unexpected business, and unexpected solutions to your most pressing problems — in just two weeks or less?
This is the promise of my Feel Free to Prosper® program, a simple, fast, and practical how-to approach to prosperity. And it is not a promise made lightly. It's a bold promise I make to you — and one that I intend to keep.
It's not magic. But it may seem magical because the exquisite simplicity of the prosperity laws is not commonly understood. Human nature tends to complicate matters that appear abstract and beyond our reach.
I overcame adversity and my own "lack" consciousness to create a business that for two decades attracted the world's largest corporate clients by using the same prosperity principles that I now share with my students internationally and that I am about to share with you. Marilyn Jenett Locations, my one-woman special event company, evolved and was sustained over the years solely through the application of these prosperity laws.
With the wisdom gained from my experiences in life and business, and through the inspired intuition that created this program, I am passionate about teaching you how to "put the Universe on speed dial" through my amazingly simple, easy-to-grasp, and proven Feel Free to Prosper teachings. And yes, it will only take you 15 minutes a day.
In today's economic climate, there is a vital need for the world's population to understand the underlying cause of personal financial distress: a belief that there is a separation from the true source of their supply — what I call our "invisible means of support." With my teachings, you will finally overcome the fear and experience proof of your alignment with the universal parent that is ready to shower each of us with gifts that are far beyond our imaginings — once we learn how to receive.
My teachings have attracted many publishing offers. Feel Free to Prosper, the book based on my teachings, has been published by Penguin Random House, the world's largest publisher. The free online version of Feel Free to Prosper: An Entrepreneurial Memoir of Synchronicity and Guidance has attracted over 75,000 readers and is also being published.
My teaching methods and proprietary techniques allow you to bypass the analytical mind and gently influence the subconscious, thereby creating your "pipeline" to the universal source of supply. My unique teaching style and ability to communicate what was previously considered esoteric knowledge into the simplest form is the key to the successful results my students achieve.
They get the results they are looking for — and get them quickly — because my teachings address a critical component and missing link that most other books and programs do not: overcoming the resistance of the subconscious mind. Through what I call "friendly persuasion," you'll learn special techniques that gently coerce the subconscious mind to accept a new dominant thought.
In 2011, a news story was released by Bloomberg News: University researchers in Norway and France finally provided the scientific evidence that I had been seeking — the evidence that supports my proprietary lesson techniques. Every new student receives this media story.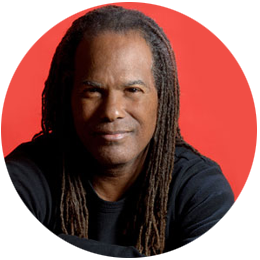 "Feel Free to Prosper reveals the immutable, universal principles that govern prosperity. Apply them, and watch how your life becomes enriched on all levels."
Michael Bernard Beckwith
Founder and Spiritual Director of Agape International Spiritual Center, and author of Life Visioning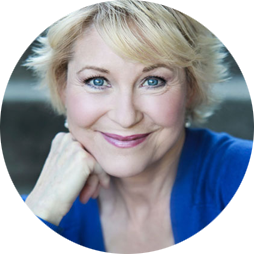 "The first time I did Marilyn's program, quite amazing things happened in my life. She combines a spiritual and pragmatic approach to manifestation and abundance with techniques that will help you shift dramatically and have "the Universe on speed dial."
Dee Wallace
Star of E.T. the Extra-Terrestrial, film and television actress, healer, and author of Bright Light
"Doing Marilyn's work has truly created a shift in my life that is leading to the most inspiring and life-changing times of my life so far."
Catherine Garceau
Olympic Medalist, Speaker and Author
From my decades of study of the mind, I knew that it was commonly accepted that it took three to four weeks to break a habit and create a new mental pattern. However, from the time I began teaching the Feel Free to Prosper program, I noticed that my average student achieved a breakthrough in two weeks — often much sooner. I later heard that current psychological research showed it can take as little as two weeks to begin creating a new neural pathway in the brain. My students have been consistently right on cue. Quite simply, the techniques work and they work fast.
The fulfillment of my promise will officially launch when you apply the traditional Feel Free to Prosper Audio Program. The program will not only jumpstart your prosperity — it will prepare you well for the main journey.
If you own a business or want to advance in your job or career, then these teachings are devoted especially to you.
Just as a house cannot stand without a proper foundation, all of the marketing, sales, and business know-how in the world will not result in success unless you first have the internal foundation — the mindset — to succeed. Once you create that foundation, you will automatically be guided to all the appropriate elements that will result in your success. You will be inspired to do exactly what needs to be done to get your results. Or you may be guided to take no physical action — except to watch as results arrive miraculously out of the blue (I know you'll love that part of these teachings).
As a student of Feel Free to Prosper, you will learn that when you have "the universe on speed dial" you will truly have the greatest marketing department you could ever hope for — and that the possibilities are unlimited.
With the Feel Free to Prosper program, I promise that I will simply and passionately share my experiences and knowledge with you so that you can live a more prosperous, inspiring, and successful life.
Let these students tell you in their own words…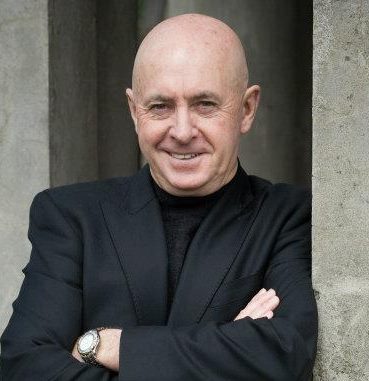 From New Zealand…
Hi Marilyn,
Firstly, can my partner Jacqui and I say thank you for the programme as it is so fascinating to watch things occur.
Jacqui's real estate business is receiving new seller opportunities almost every day now in a really slow market. She loves it. 4 appraisals last week and 2 more today. At one of this week's open homes a woman came in looking for her to appraise and sell her home. Another sale is confirmed today.
A long time friend who owns a great real estate office with his wife has just offered me a $5,000 fee for taking a closer look at his business and helping some of his people move ahead in their performance.
A new home builder has returned with "Let's get you in to help us make more sales."
A major real estate group I have never consulted for before has just booked me for a tour next month.
Auction bookings continue to flow at $575 each. One day had 6 auctions booked all at once.
I reckon my cash flow is almost double in 3 weeks and as long as we follow your programme it will accelerate.
Launched a great new product called 4 Phases of Marketing to my real estate database. The response is fantastic and I believe we will sell close to a 1000 of these in coming weeks at $179 each. I will keep you posted!.
We are taking it slow and today I start listening to Lesson Three.
Kind Regards,
Ian Keightley
Real Estate Sales Coach
Trainer, Speaker, Auctioneer, Coach
www.salescoach.co.nz
Note from Marilyn: Received this in 2010 when the New Zealand real estate market was greatly impacted by the slow global economy…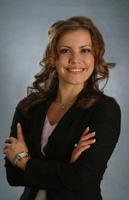 The Simplest Things Are the Best Things in Life
My name is Minerva. I am a 24-year old California Realtor and I am writing this with all my sincerity and gratitude. I have been working with Marilyn's prosperity lessons, and wanted to share the wonderful results I have seen, all within weeks of applying the work.
I have experienced amazing results, different and so much better than I had imagined, and I believe it is because of the simplicity of the first lesson. I have closed 3 transactions, opened 2 new ones, and received many market analysis assignments from banks (which pay agents' fees). That's not all…I acquired 4 approved ready-to-buy buyers too! All this since starting the lessons…and all of this is happening at the height of the 2009 economic recession in the U.S.
I was a little concerned about something at first. I wanted more income, but did not want to take time away from my beautiful 2-year old son. Well guess what? Since applying Marilyn's techniques in the first lesson I have manifested what I affirmed. I always thought of success as the quote I once saw: Success is being able to spend your time in your own way. – Robert Morley
Since all this income has been coming in and I am attracting perfect business effortlessly, I have been able to save 2 whole days out of the week strictly for my son! I take him to the park, to the zoo, and we're creating so many wonderful memories, thoroughly enjoying the simple moments, and best of all, my entire mind is there with him! It's incredible, and everything I ever wanted. The best manifestation of all!
Thank You Marilyn! I have a new outlook on life.
Happy & Grateful,
Minerva Paniagua
Real Estate Consultant
Manteca, CA
www.FindingMyPerfectHome.com
Note from Marilyn: Do you see why I say, "Progression, not Recession?"
My journey as a prosperity teacher began several years before the book and DVD, The Secret, saw the light of day. I was immersed in universal laws for decades and began teaching the principles before this new wave hit the mainstream.
Two decades before, I had built a successful events planning business from scratch — from less than nothing — and I was featured in the Los Angeles Times, the Los Angeles Business Journal, Century City News, and newspapers and publications the world over.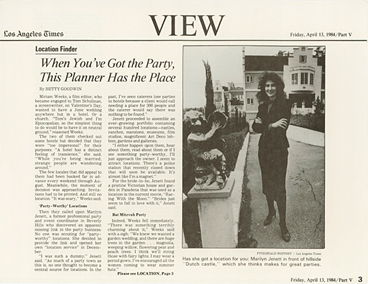 Marilyn featured in the Los Angeles Times, 1984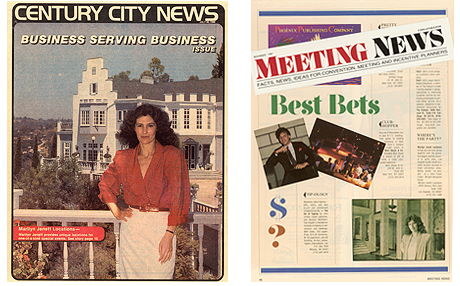 The journey continues…
My tiny one-woman company had a client roster that would make even the most accomplished Fortune 500 executive sit up and take notice — companies like: Campbell's, Nike, Michelin, Citibank Private Bank, HGTV and many more.
I had built a successful business by using these principles long before I decided to teach what I know. I started my business with a raw idea and my belief in the prosperity laws. I had no proper business education, no connections to speak of and no marketing or publicity budget.
Yet, within months, I was featured in that cover story in the Los Angeles Times and media around the globe after the Associated Press picked up the story.
My "15 minutes of fame" turned into a 20-year career in which I attracted some of the world's largest companies — without advertising, marketing or networking — and only relying on prosperity laws and the "Universe as my marketing department."
It was vitally important that I made money in a real world business prior to becoming a prosperity teacher. In fact, I never knew until 2003 that I was destined to teach others the same prosperity principles I used to build my business.
You've doubtlessly heard the expression that our greatest regrets in life come from the things we didn't do…not the things we've done.
Whether you hold the desire to amass great wealth or just have the quiet satisfaction that your financial needs are taken care of, my purpose in life is to take you there with Feel Free to Prosper.
The Feel Free to Prosper Program:
Do the "Homework"… Get the Results
Once you begin the Feel Free to Prosper program, you may find yourself wondering: "Can it really be this simple and work?" Can just 10-15 minutes a day of "homework" really create such striking results experienced by my students?
The truth is, the simplest things are often the most powerful. For this reason, I created the teachings to avoid information overload and confusion. This is the key.
Once you start getting results, the confirmation that the principles do indeed work will be like a lighthouse beaconing to a ship in a dark harbor.
And your faith in the process will soon grow to be as strong as your expectation that a light will go on when you flip a switch in a dark room. It's a simple proposition. Do the homework and get the results.
Having "the Universe on Speed Dial"
One of my favorite expressions is "the Universe on speed dial."
For me, this expression not only refers to the startling speed of the results, it also means a lightness and ease of actions that help you to get what you want, never forcing matters but going with the flow.
It also conveys the idea that the Universe has mapped a grand course of action for each of us, and it's up to you and me to realize what this is.
As the new century began and the post 9/11 era created a worldwide shift in consciousness, I increasingly realized that the world of elaborate corporate entertainment and six-figure events was no longer aligned with my greater purpose and maturing spiritual values.
I intuitively knew that my business of two decades was the "university" that developed and rigorously tested my knowledge, faith and conviction in the prosperity laws, so that I would one day teach others.
I knew, in fact, that it was my spiritual obligation to do so and was aware that my gift was my unique crossover between the metaphysical and business worlds.
I was compelled and "guided" to develop a program that contained the same lessons that I had applied to overcome adversity and create my successes over the years.
The program had to be simple, easy to apply and create results quickly, so that others would not have to go through my 30-year journey. I had graduated well, absorbing the teachings of the most brilliant minds of mental and spiritual science, and I would honor and continue their legacy.
And so was born…
Feel Free to Prosper
Just as I had manifested clients so naturally in my former business without ever spending a dime on marketing or advertising in 20 years, the doors spontaneously opened for me to share my teachings, and students from every walk of life flocked to my Feel Free to Prosper program. Thousands would arrive as testimonials poured in. I knew I was 'home' and living my destiny.
As I was establishing Feel Free to Prosper, I had decided to release my former business, but out of the blue — from a fluke phone call — came one of the largest clients of my 20-year career. Campbell's Soup spent $450 million dollars for national promotions targeted at children.
I played a key role in these promotions, securing spectacular venues like the Malibu mansion, the castle in England and the private island in the Caribbean. (The owner of the island later became my student).
I have since completely released my corporate business in favor of prospering others — my true life mission.
What the Real Estate Community Says About Feel Free to Prosper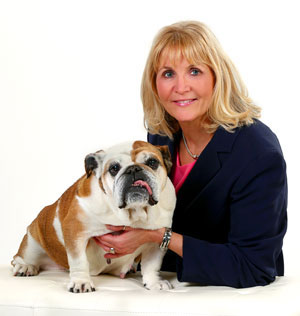 My call to the Universe was answered…
I've heard many speakers being interviewed. I've listened to and studied the masters – Raymond Charles Barker, Dr. Murphy, Florence Scovel Shinn, Eckhart Tolle, Wallace Wattles, Napoleon Hill, the Fillmores – to name a few.
But…. ten days ago my call to the universe was answered after I listened to Marilyn Jenett speak on a show. Let me just say that the timing for this and the synchronization of her words with my soul were magical. She is that missing link that I've been searching for, the missing link to my manifestation of prosperity.
The simplicity of what she teaches and how it permeates the subconscious is putting my business on fire! I purchased her program. She said in two weeks you will begin to be prosperous. In ten days, the business I have currently under contract will generate close to $75,000!
I'm in week two, and this is so exciting to see what will happen next! I'm loving this new normal.
Marilyn…Thank you, Thank you, and Thank you for helping me put that piece together.
Renay Daniels
www.bulldogbroker.com
Bellingham, WA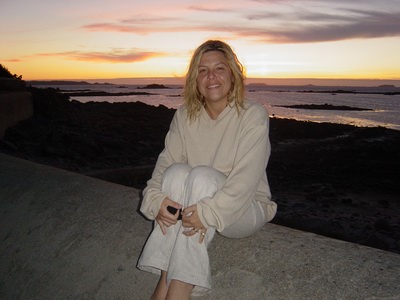 Tuesday night I get a LISTING!!!!! WOW!!!! My past client who recently purchased a property must sell now because of job relocation and hands me the listing – it was too easy.
Today!!! Wednesday, just put a condo into ESCROW!!!! for my buyer that I met just 7 days ago – that was easy.
Thank you for helping to bring prosperity and helping me to understand the meaning of it all.
Michelle LeBron
La Quinta, CA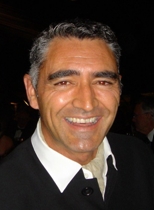 There have been many times where I have clearly seen the effects of Marilyn's prosperity teachings upon my life, and in particular I have noticed a pattern of cause and effect and an amazing synchronicity in the events following my receiving her sagely advice.
Shortly after one mentoring session, American Express booked Little Eden Cay, out of all the world's islands, for their huge card member promotion. Following another call, the largest television network in New Zealand filmed our family at the Island which made a national impression and resulted in amazing footage that is now on our website.
Thank you, Marilyn, for teaching me the tremendous power of Focus and Intention; two sure keys to closing a sale…
Martin Thomas
Wellington, NZ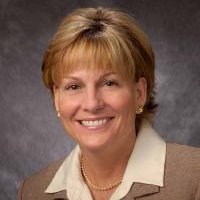 After our conversation I decided to try your program. I am in real estate and the market is very slow right now, so I did have the extra time to try something new!
Well, the next day something great happened! Out of the blue, a past client of mine called and left me a message. I called him back later and he stated that his cousin was in town and would I meet with him about some commercial property.
Then, two of my listings received contracts on them and are waiting to close. I also received two buyers…. wrote 5 contracts in 7 days!! I am telling you the truth, this is so uncanny!!! Now I know that you would say that this is supposed to happen and I am sure you are right, and it sure is fun!! I do believe in being positive and I am excited to learn more from your program, Marilyn!
Teri Kerr
Keller Williams Bluegrass Realty
Lexington, KY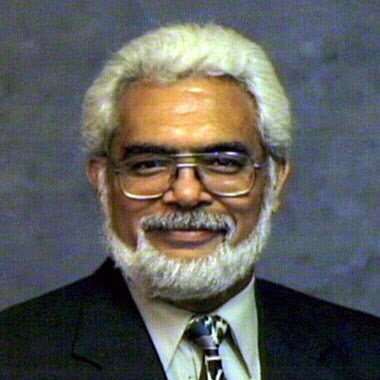 It happened yesterday. Just over a week of rehearsing the role-playing homework in Lesson Three, my real estate deal closed and I earned many thousands from the deal. This is Fun!!!!!!!!!!
Thank You, Marilyn.
Rasheed Hooda
Houston, TX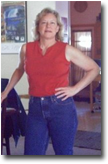 I Am A Manifestation Machine!
Hi Everyone,
I've been working with Marilyn since the first week in April. The progress I have made gives me so much joy. I'd like to share with you all a few things that have happened to me.
I put my home on the market on April 23th and today, just 5 ½ weeks later, I have a sale. My realtor is still trying to figure out how she sold it so fast. When she brought the offer over to me last night and while she was here she said, "Terri, some people are just dying to get one showing and you have had two or three showings a week since we put your house on the market." I just sat smiling at her, knowing exactly how she sold the house so quickly. This sale was an amazing demonstration of the power of the Universe, and how applying Marilyn's lessons simply works!
Prosperity is FUN!
Terri Cummings
Bridgman, MI
… And then I came across your program
Thank you, Marilyn, for your awesome program.
Something within me has always sensed that life is supposed to be easy and fun and that there must be a way to actually make this reality work. And yet with over 30 years of study in spiritual principles, energetic techniques, countless seminars, 100s of self-help books, and even a degree in parapsychology…my search continued…
My husband and I own a home building company and all of our assets were invested in completed new homes sitting on the market. It had been 18 months since our last home sale, which is a considerable length of time to go with no income. We needed a sale quickly or life as I had become accustomed to living could change radically. I was diligently using energetic techniques and principles I had learned, to turn my financial situation around…but nothing was changing or happening. …And then I came across your program.
I started the FFTP program 10 days ago. Almost daily I have received something wonderful from the Universe – including unexpected dinner invitations, flowers, compliments…But most profound is the $843,400 in signed sales contracts, with an upcoming potential of an additional $300,000 sales contract this week. This is absolutely amazing and I am truly grateful! I've been taking classes for the past 30 years and of all the programs I've taken, I've never had a program bring me results as quickly and so profoundly. I can actually feel my brain getting rewired. It's a very unique feeling.
Marilyn, I am so grateful for your program. Thank you for following your intuition and bringing this program to the world. Thank you for your wonderful call this week. Thank you for answering my questions and giving me such wonderful clarity. And I just want you to know, that every night when I'm listing good things that happened…you and your program are always on my list.
Thank you, Marilyn.
Valerie Piotrowski
Beverly Shores, IN
What Other Students Say About Feel Free to Prosper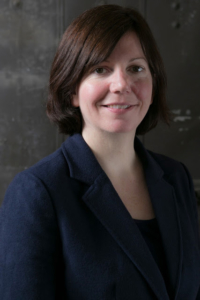 I wished I could return to graduate school, but with a family, a full-time job and financial obligations, I didn't see how. I followed Marilyn's guidance to manifest my ideal job and within two weeks, attracted a dream job that offered FREE TUITION.
I received my Master's in April – and again, returned for Marilyn's guidance to seek my ultimate dream job. And I found it! I am now a Senior Director for an organization empowering girls and young women. I love what I do, and the people that I work with. As an added bonus, my study group from my Master's program created a side business – an organizational leadership consulting company. My annual income has more than doubled since I obtained my first job with Marilyn, and all this during a national recession!
I feel much more powerful now as I grow to understand more about the laws. I feel they have firmly "taken hold" in my subconscious and that I am truly able to create the life that I desire.
Update: I have since been promoted to Senior Vice President at an even greater increase in salary – still during the 2011 economy. This now truly is my dream job – it's been wonderful going through this journey with Marilyn.
Alison Wilcox
Senior Vice President for a National Organization
Co-Founder of Serendipity Leadership Solutions
Buffalo, NY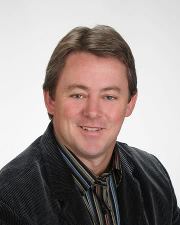 Marilyn has been one of my best 'secret weapons' in my own life…and it's time I share. Since meeting Marilyn, my income has more than tripled…no bull. I have attracted more success into my life than the previous 3 years – combined. I have discovered how much potential I truly have.
With her help, amazing things have happened. I won awards. My business has thrived, and I got the chance to work with some of the most successful people in the world. And I made a lot more money (which meant I could give more to my charity of choice, helping hundreds of kids in some very challenging situations).
If you are like me, and want more out of life, I would ask you to listen to what Marilyn has to offer.
Troy White
Responsive Direct Marketing, Inc
Calgary, CA
http://blog.smallbusinesscopywriter.com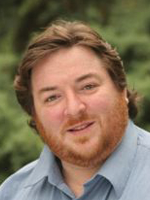 Gratitude, My Recent Manifestation
Marilyn Jenett has changed SO many lives. Or, more accurately, Marilyn has helped SO many people change their own lives.
I have to tell you, this lady has the keys to unlock your prosperity consciousness. I just can't say enough what a breakthrough even one month of working with Marilyn was.
For my work in the month of November, I got paid… get this…more than I made the entire YEAR before!
AND, at the same time, we moved to Austin, found an absolutely fanTAStic deal on a home here that is incredibly energy-efficient, got rid of our huge gas-guzzling custom van, which we just really didn't need any more, now that all of my work is virtual. All that combined reduced our living expenses by nearly $2,000 a month. That's money in the bank, too. And, the stock I got paid in (PUBC.OB) went from $0.28 a share to $0.70 a share!
So what are we doing with all that extra money? Having an absolutely fabulous Christmas for our kids and grandkids, holding onto the stock so we build up some investments, and – most of all – not stressing constantly about finances.
Thanks, God! Thanks, Marilyn! Thanks to all of you who have supported me in so many ways!
Scott Allen
Social Media Expert and Author
Austin, TX
http://ScottSocialMediaAllen.com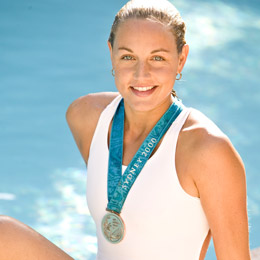 The Mentor/Teacher I Was Looking For…
My name is Catherine Garceau, a passionate health advocate and Olympic Medalist from Sydney 2000 in Synchronized Swimming. You would think as an Olympic Medalist, life is just made for you. The truth is that even someone with the drive and discipline to reach such an achievement in life can be just as vulnerable to the issues and "dark nights of the soul" as others – and sometimes more so.
Here I was, again, prior to my 31st birthday, standing in a state of wonder about how I was still living in a place of financial insecurity and scarcity when I had so many potential channels for abundance to flow in. My challenge was to climb out of my own tailspin with regard to my health, body and financial lack.
Just as I was reaching deep within, Marilyn and I met through unusual synchronicity. One conversation and I knew I had found the mentor/teacher I was looking for…
The lessons and recordings of her audio program produced incredibly fast results. And I mean fast….
In exactly two short weeks, I manifested a dream "home," job and opportunity that was in perfect alignment with my vision of many years – to bring my health goals and spiritual quest and outreach into action. I have since gone on to create my own health and wellness summits.
Doing Marilyn's work has truly created a shift in my life that is leading to the most inspiring and life-changing times of my life so far. Marilyn's own story of synchronicity and guidance and mastering universal laws has prepared her well to teach us to receive.
Catherine Garceau
Olympic Medalist, Speaker and Author
Toronto, CA
www.catherinegarceau.com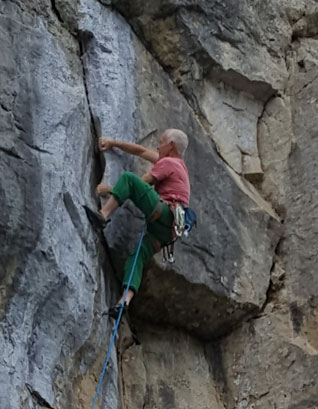 Marilyn's Teachings Subtly Influence Events at Buckingham Palace
Feel Free to Prosper by "Royal Appointment"…
Marilyn boldly states that with her teachings, you will have "the universe on speed dial." Well that was interesting because I'd been getting used to the exact opposite – slowness.
In the first week of applying Marilyn's lessons, for a ghostwriting project, I confirmed a Foreword by Prince Philip and a Dedication by Lady Soames, daughter of Winston Churchill.
The universe loves speed! Wow!!! The Palace response, almost immediately followed by Lady Soames' decision was like a double sonic boom, a cosmic cry to me saying, "This stuff really works…"
A week later, the speed dial went crazy! I'd just finished writing my Feel Free to Prosper affirmations when there was a knock at the door. Manuscript back from the Palace with agreed Foreword (brilliantly composed by Prince Philip). General rejoicing!
Michael Ward
Copywriter and Ghostwriter
Isle of Portland, UK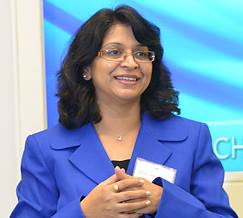 After I applied Marilyn's lessons, my husband received a promotion at his job, I began manifesting new contracts for my young IT services business and two months later I closed on my dream home overlooking one of Chicago's most prestigious golf courses.
The small girl who grew up penniless in India has now overcome challenges and discrimination to rise as the owner of an award-winning international company in a male-dominated industry.
Keep up the good work, Marilyn, and take it to more people who can benefit from Feel Free to Prosper.
Poonam Gupta
President and CEO, Iyka Enterprises, Inc.
Chicago, IL
www.iyka.com
The Feel Free to Prosper Journey and Some of What You'll Discover
Three words which you (or your children) should never utter again if you're after true prosperity.
Two words that become the steadfast "security guards" of your wealth consciousness and "short circuit" negative thoughts about money and finances.
Why force fails and "friendly persuasion" works every time…in getting your subconscious to be your ally.
Why the Law of Reversed Effort may be keeping you stuck and stalled for years.
Why affirmations may be doing you more harm than good…and how to "graduate" to affirmations that are guaranteed to work for you.
Why silence is golden when it comes to revealing your dreams and goals to the outside world.
Infinite intelligence and how to connect with it to find your true place in life, as Marilyn did to create a business that brought success…without an MBA or business background.
How to launch a new prosperity consciousness that "delivers the goods"…even if lack patterns have dominated your thinking for years.
The most important thing you can do before dropping off to sleep at night that can multiply your manifestations several fold.
How to use feelings to compress time and create rapid manifestations.
Why less is almost always more when it comes to building a wealth consciousness that will serve you for a lifetime.
My secrets to getting "the Universe on speed dial"…starting in as little as two weeks.
How to trigger a moment of feeling that's more powerful than 1,000 affirmations in getting what you want.
A technique for being able to pay in full a table full of bills and invoices.
Why you may be sabotaging your "subconscious taxi driver" by giving it multiple "destinations."
The difference between channels of income and source of income and why understanding this makes all the difference in manifesting what you desire.
Why overload and confusion are the biggest obstacles to acquiring and maintaining a prosperity consciousness…and how I have solved the problem.
Why spiritual substance is steadfast and reliable and doesn't care about economic cycles.
What NEVER to say about your finances to yourself (or anyone else) no matter how desperate your situation appears.
Bonus Gift for the Real Estate Community
How Would It Feel to Have…
the Universe as Your Marketing Department?
As my gift with your purchase of the Feel Free to Prosper Program, you will receive one of my most valuable products – the recording of the Feel Free to Prosper Teleclass for Business Success.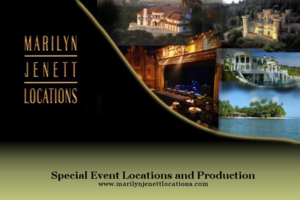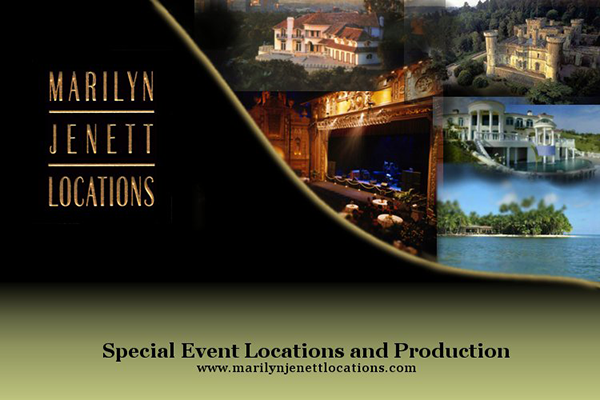 This 3-hour, 20-minute recorded teleclass is devoted to prosperity principles just for business success. I share with business owners, solo-preneurs, and career employees, the prosperity laws that I specifically applied to create and build a renowned business for two decades and to later reinvent myself with the creation of my Feel Free to Prosper program.
This class is overflowing with content that will provide you with a clear understanding of the principles that will transform your consciousness and take your business to a new level. It's a storehouse of information that you will never find anywhere else. This program sells on my website for $147 but it's my Free Gift to you.
I recommend that for your greatest benefit, you listen to the Teleclass for Business Success after you have completed the Feel Free to Prosper Program, which is the foundation of the Feel Free to Prosper teachings.
See all the details of the bonus program here
Feel Free to Prosper® Audio Program
for Real Estate Professionals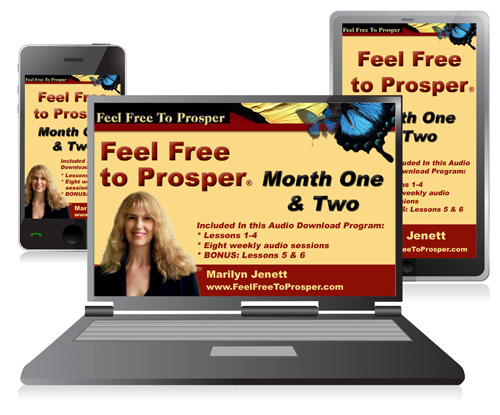 YES, Marilyn! I'm ready to begin manifesting like never before, so I'm responding today.
I know you've developed this program based on the timeless teachings and principles from the ablest prosperity teachers in history…and refined them through 30 years of your own experience working with and using the Laws.
You've not only attracted numerous multi-national clients to your events planning business for years, but you've also taught thousands of your students these same techniques for rapidly transforming their businesses and personal lives.
And now because I'm ready to receive my natural birthright of prosperity, you're extending your program offer to me…
You get…
Month One of my Feel Free to Prosper Audio Program which includes four 90- to 120-minute downloadable mp3s and the powerful Feel Free to Prosper lessons in PDF format.

Month Two

of my Feel Free to Prosper Audio Program which includes four 90- to 120-minute downloadable mp3s and the continuation of the Feel Free to Prosper lessons in PDF format, plus two more bonus lessons.

Two Special Sections

for Real Estate Professionals. I've gathered some of the best affirmations and visualizations used by my successful students in real estate that you can use to list and sell more property, as well as to attract the right buyers and vendors for your services. You can use these tested models as they are or to create your own to get the results you want.
The 3-hour long

Teleclass for Business Success

, where among many things, I detail how I attracted multi-national clients without spending a dime on advertising. I also reveal how to overcome the fear of asking for business, the antidote to fear of failure, the system for knowing when to charge more…and to charge less…and so much more.
Special Note: I'm throwing in for FREE, my 3+ hour "Teleclass for Business Success" which sells for $147 on my website.
I recommend that for your greatest benefit, you reserve listening to the Teleclass for Business Success until you have completed the Feel Free to Prosper Program.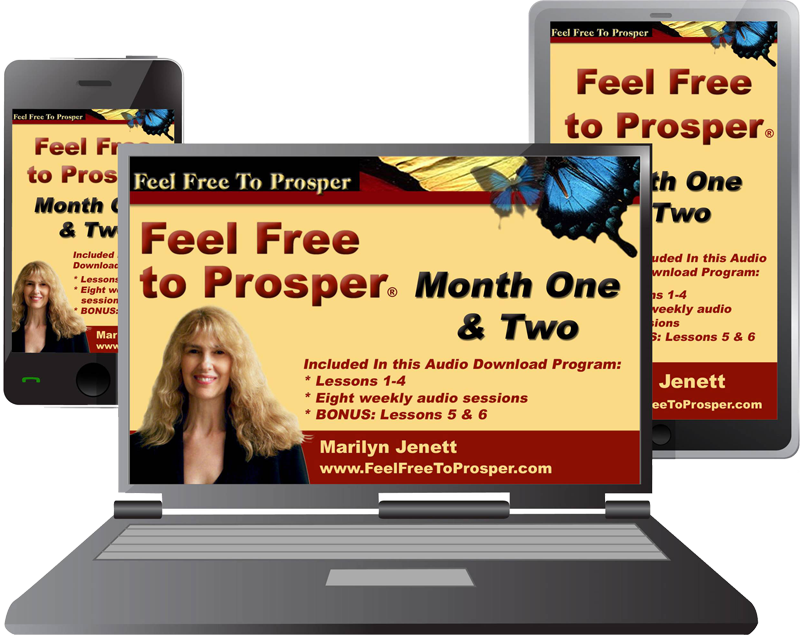 Single Payment of $497USD

Marilyn's Guarantee
I am confident that you will experience the results that I promise. I want you to purchase the program only if you are truly ready for change and are willing to apply the lessons.
However, if you apply the program and don't find it to be of great value as promised, let us know within 30 days of your purchase. I'll be happy to give you a full refund.
— Marilyn