Your Mentor
Marilyn Jenett is a renowned prosperity mentor with an international following. She is also an accomplished entrepreneur. She overcame her own "lack" consciousness to create her former business, Marilyn Jenett Locations, a special event company that attracted the largest corporate clients and major media publicity for two decades.  Her achievements were the result of the prosperity principles she now teaches in her Feel Free to Prosper® Program, a simple yet powerful lesson and mentoring program based on mental and spiritual laws. The program traditionally creates results within two weeks!
Marilyn founded the Feel Free to Prosper program to mentor and teach others to become aligned with Universal laws and accept their right to prosper. Thousands have applied her techniques to manifest striking results and learn how to "put the universe on speed dial."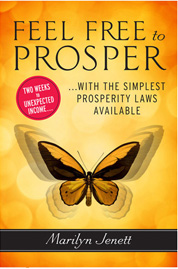 Free to Prosper — Two Weeks to Unexpected Income with the Simplest Prosperity Laws Available, the book based on her teachings, is published by Penguin Random House and is available at booksellers worldwide.
Her fascinating memoir, Feel Free to Prosper: an Entrepreneurial Memoir of Synchronicity and Guidance, was written completely online, has attracted over 78,000 readers, countless rave reviews and extraordinary public attention. You can still read this amazing story free online until the book is published.
In today's economic climate, there is a vital need for the world's population to understand the underlying cause of personal financial distress: a belief that there is a separation from the true source of their supply — what Jenett calls our "invisible means of support." Her students learn to overcome their conditioned thinking, habitual words, criticism of money and other aspects of consciousness that perpetuate financial lack. By practicing the principles she teaches, they learn how to create new patterns of thought and speech to begin to magnetize money instead of repelling it and acquire a true sense of security. And most importantly, they experience proof of their alignment with the universal parent that is ready to shower each of us with gifts that are far beyond our imaginings — once we learn how to receive.
Marilyn is a top featured speaker for globally popular telesummit shows. Audiences embrace her authenticity, grounded teachings and content-rich topics. Her students around the globe are fulfilling her two-week promise with her simple, fast and affordable self-study audio program.
Marilyn believes that her entrepreneurial journey in the corporate world served as the vehicle for her to become indoctrinated in these profound Universal laws. Her victory in overcoming her own "lack" consciousness culminated in her faith and conviction in these laws and the recognition of her life's purpose — and spiritual obligation — to teach others.
Marilyn's Former Business of Two Decades
Marilyn Jenett Locations
Created solely with the prosperity principles she now teaches…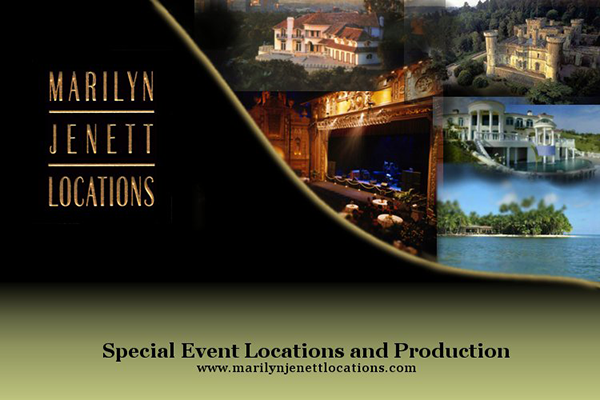 Marilyn Jenett originated the concept of a location company for special events decades ago. Her former business, Marilyn Jenett Locations, quickly evolved into a famous special event location company offering the most complete and exciting selection of venues for corporate and convention events. The renowned, highly reputable company was considered to be among the best in the special event industry.
Maintaining the distinct reputation as the premiere location company for corporate, convention and select private events, the company was equally known for the finest event production utilizing the industry's top professionals. Marilyn's intuitive perception combined with considerable knowledge and skill and an unfaltering work ethic resulted in highly successful events throughout the years and ongoing relationships with her clients.
Marilyn Jenett Locations clients included the foremost corporations and associations in the world, convention meeting planners and participants, local businesses, entertainment companies and celebrities. Her ease in interacting with high profile clientele, corporate executives and celebrities led her to personally hire major talent from the entertainment and sports worlds.
The company was acclaimed by major media, including local and national television and radio and feature articles in major newspapers, magazines and trade publications. Marilyn herself had written authoritative and informative articles over the years for the Los Angeles Business Journal and other notable publications. She was a longstanding member of the Los Angeles Convention and Visitors Bureau (LA Inc.)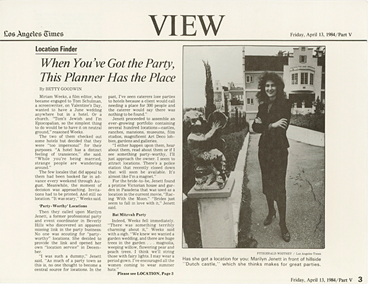 Media darling…circa 1980s: Los Angeles Times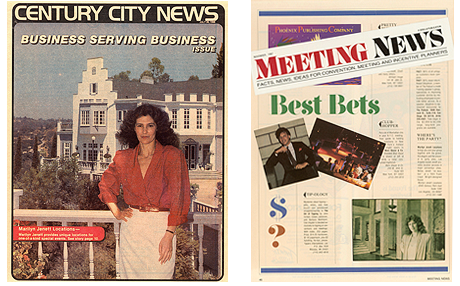 How about a "low-profile" location for your next bash? Oh, yes…that's Marilyn's date for the evening (New Year's Eve Gala for Michelin North America)
On location at the 1924 Frank Lloyd Wright masterpiece patterned after a Mayan temple
This incomplete $12 million villa provided the perfect design-in-progress theme for HGTV private bash featuring Crosby, Stills & Nash, produced by Marilyn Jenett Locations.
Marilyn had the orchestra seats of this historic theatre covered with a platform to create the party area for HGTV's cable industry bash that she produced in New Orleans.
Then she hired Harry Connick, Jr. to rock the house with his funk band.
Harry performing solo (yummy in black and white or color!)
Marilyn hired Sports Superstars for a medical convention event she produced for client Amersham Health. Marilyn's 5'8" is no match for broadcaster Bill Walton's 6'11" (Secret: she's no sports fan!)
With legendary athlete Ann Myers Drysdale
With legendary "Showtime" Laker Norm Nixon
Norm Nixon signs autographs for visiting doctors.
Marilyn provided this striking Malibu estate and coordinated details for Campbell's major promotion.
This magnificent castle in England was the next booking.
And this private Caribbean island followed.

Event Photo Credits:  
Cheers and Michelin North America: Arthur Cohen Photography (in memoriam)
HGTV: Jay Lawrence Goldman Photography
Amersham Health: Johnny G. Photography